What I love about the web is the opportunity to share my thoughts and passions with others. But I also like to hear what others think and to exchange ideas.

On this page, I'll share some of the comments I've received in my Guestbook and via e-mail. In some cases, I also may also respond to the comments.
From E-Mail:
Name: Denny
Location: New York City
Letter 1: I found your site and have a question for you. I just got Moon River on CD. She sings so wonderfully. I wanted to know how I could get more of her singing. Do you know of any other stuff and where to look or buy? I am sorry to trouble you. Thanks for the help!
Cliff's Reply: I would be glad to help you. Well I get most of my Audrey movies and stuff from Amazon.com. However most of the songs that I have uploaded on my website were from KaZaA. You can get KaZaA and you will be able to find probably all of her songs.
Letter 2: I had a question for ya, I thought only you would know! Did Audrey sing on the "My Fair Lady" soundtrack?
Cliff's Reply: Okay this was a controversy. Originally in the movie, Audrey Hepburn did sing all the songs that Eliza Doolittle did. But during the filming, she found out that the director (George Cukor) had decided to dub Audrey. The person that sang all the songs was Marni Nixon. When Audrey found out, she stomped out of the studio, but the next day she came and apologized to everyone. Audrey Hepburn had a very good chance of winning the Academy Awards that year (1964), but she mainly lost it because she was dubbed. Also because the Academy sympathized Juile Andrews because Eliza Doolittle was created by Andrews on Broadway. Hope this helped.
Letter 3: Ya know ...I knew it was not her since it did not sound like her. I heard that you can get the original recordings of her somewhere singing the songs and I am still trying to find them. She had such a wonderful voice, I wish
she was alive, I would first ... marry her! haha, then have her sing songs
and record her! I heard she sings some on Funny Face so I am gonna find that
one. What else do ya know of? Thanks for getting back to me!! You are soooo sweet.
Cliff's Reply: I love the musical Funny Face because it was a movie where you got to see Audrey Sing and Dance. (with Fred Astaire). All the songs that she appears to sing in Funny Face where actually sung by her. She also sang Moon River in Breakfast at Tiffany's. She sang La Vie En Rose and other songs in Sabrina. If you have the DVD version of My Fair Lady, they have a version of the movie where Audrey sings. So all was not lost when they dubbed her.
Letter 4: I am soo happy! Cliff, you are a GOD! heehee. Thanks! All my friends now know about you. You are popular in NYC. Be well. If there are any other thingies she sings on let me know. I will track down the stuff you
mentioned. Yea!
Cliff's Reply: Hope you find what you the things that you want.
Name: Lauren
Location: Unknown
Letter 1: Hey I'm writing a biography on Audrey Hepburn and I needed to find someone online and ask a question or so for the field experience part of the paper. So I was wondering if you can get back to me as soon as possible as to what you think about Audrey and her fashion and how she changed fashion. Also, if you want to say anything about her movies or anything, that would be
great. Thanks a lot.. Lauren. Ps- if you can give me your name i need it
for documentation purposes but that is all. Thanks a lot.
Cliff's Reply:
First off, I believe that Audrey Hepburn was a wonderful person. She was a great actress, but what really impressed me was when she became the Goodwill Ambassador for UNICEF. My site isn't finished yet, but my thoughts about her will all be recorded there. Also I don't know much about Audrey fashion except for that Hubert de Givenchy made her most outstanding clothes. One great resource for everything about her is this website.
www.audrey1.com
Name: Liz
Location: Unknown
Letter 1: Hello, my name is Liz and I am doing a research paper for my high school english class on Audrey Hepburn, and specifically her work with unicef, and I came upon your website and I was wondering if you had any suggestions on good resources for the project? This is greatly appreciated!
Cliff's Reply: Well videos are great sources. I have two vidoes and both have around ten minutes of information on UNICEF. You can find it at Amazon.com. One is called Hollywood Collection- Audrey Remembered and then other one is called Intimate Portrait. You can use books. For books and videos, I recommend Amazon.com because they have a large collection. I'm not sure if you have already visited the old official Audrey Hepburn site, but it has a page on her work in UNICEF. I don't have the url with me right now, but if you want the url then you can ask me later. Hope this information helped you .
Name: William
Location: Ireland
Letter 1: Hi Cliff! First of all I love your Website and I have always loved Audrey. Thanks for your work on this. My friend in Ireland and I have a disagreement over her Nationality, I say she is Dutch with an English father. He insists that she held a Begian passport and was Belgian. Can you shed any light on this. We both love her as you must. Thanks
Cliff's Reply: So far, all that sources that I have read say that she was half Dutch and half English. Her mother was Dutch and her father was English. Thanks for writing.
Letter 2: Thanks for the info on Audrey. Further looking online made a reference that she was considered of English Nationality as her father was English and they had made their permenent home there until she was trapped in the Netherlands during the War. You have great taste in Actresses and in sophisticated and wonderful people. That's what Audrey Heburn was before anything else and we miss her.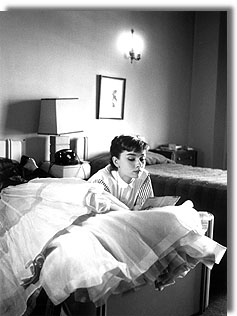 From Guestbook:
Name: Elizabeth
Location: Franklin, State Unknown
Comment: I really enjoyed this site. It helped me to find the information I needed for my biography project.
Favorite Movie: Breakfast at Tiffany's
Cliff's Comment: I'm glad that my short biography helped you.
Name: Carey
Location: Katy, Texas
Comment:
| | |
| --- | --- |
| | I truly enjoyed your website. It was very informative and I loved the pictures, they capture Audrey's elegance and beauty. Furthermore, I would like to add to your website's biography by informing you about Audrey Hepburn's and William Holden's love affair. Many websites forget to include that significant detail in Audrey's life, and after all she was considering marriage with William Holden at one point. Again, thank you for your informative website |
Favorite Movie: Sunset Blvd. & The Fountain Head
Cliff's Comment: I do regret forgetting to put that in. I knew that during the filming of "Sabrina", William Holden and Audrey fell in love, however, Holden was married at that time. Audrey ended up marrying Mel Ferrer later.